Estimated reading time: 5 mins 48 seconds.
Oscar nominations were announced two weeks ago. Cue the Irish tendency to promote any and all Irish nominees, no matter how minor the role/weak the connection (usually Daniel Day-Lewis, or a member of a team nominated for Costume Design, or a short film director's younger brother etc.).
Saoirse Ronan saves our blushes again this year with her 5th acting nomination for Little Women. For context: she's 3 days younger than me, and I've only been nominated twice.
The Oscars, it has to be said, have lost their appeal and legitimacy (Green Book is not a Best Picture, and Joker, despite its strengths, is not an 11-nomination film). However, there have been some bangerz released in the last few months alone, two of which we take a look at this week.
Side note: This being the second year without a host, see Hugh Jackman's opening number in 2009 for an example of the job done right.
This week: Explosions, The Reel's first book, and things take a turn for the worse.
---
🛋️ What lies beneath.
Parasite (2019), film, directed by Bong Joon-ho.
I first saw a Bong Joon-ho film in school, when we watched The Host in religion class. I remember it well, but not as well as calling the same religion teacher "Mum" during class a few weeks later (shout out to Ms. Desmond).
Joon-ho has only gotten better since, and he's saved his bloody best yet for the outstanding Parasite. A downtrodden family become connected with rich, trusting counterparts - that's all the context needed.
Parasite is more than a token foreign film that you can pretend to have seen to seem cultured (I told someone once that I watched Roma, swiftly found out that it's not set in Rome). It's a satirical, dark, funny, bona-fide Great Film™. Watch it before the Oscars so if it wins Best Picture, you can brag that you saw it coming.
Look out for: Regular Joon-ho star Song Kang-ho as Kim, and the stylistic, almost dystopian set design throughout (particularly during the rain sequence).
If you liked this: Okja and Snowpiercer are both great Joon-ho vehicles and are both on Netflix (Okja is satire city). For more identity-themed thrills, watch a baby-faced Matt Damon in The Talented Mr. Ripley.
Rating: ⭐⭐⭐⭐⭐
---
🎖️ 1916 +1.
1917 (2019), film, directed by Sam Mendes.
War films are strange. They mostly show how being a solider in combat is complete shit, yet we glorify and even envy the experience. At least, I certainly do - the first time I saw Saving Private Ryan I genuinely tried to enlist (I was 8).
Like Dunkirk before it, 1917 focuses more on survival than combat, and is uncompromising in doing so. It's heavy going, with more than its fair share of squirmy, violent war stuff. One particular scene involving a hand and a slip in the mud… Let's just say that it was not a good night's sleep for Gogzibear.
Much has been made of the "one-shot" effect of the film, and while it can be distracting at times, it's absurdly impressive. It's not as good as Dunkirk, but 1917 is up there with the better war films of recent times.
(One of the worst? Lone Survivor. Christ on a bike, I wouldn't show that to my dog.)
Look out for: An extremely fleeting cameo from The Young Offenders' Chris Walley, alongside a heap of one-scene wonders from assorted A-list British (and Irish yeow) actors.
If you liked this: Birdman is a personal favourite that also takes the one-shot approach. If you like your war films a bit more men-shooty-gun-gun, American Sniper will scratch that itch.
Rating: ⭐⭐⭐⭐
---
🏥 Doctor, doctor!
This Is Going to Hurt (2017), book, written by Adam Kay.
I've seen the following, very relatable meme in various forms over the past few weeks:
ABOVE: Hat-tip to the meme queen @grainne_denihan for finding this in her archives.
I often think to myself - how the tits do you go from a medical student to an actual doctor? One day you're in a lecture hall, and the next you are literally in life-or-death situations. This Is Going To Hurt attempts to chronicle just that, in a series of journal entries over 6 years in the life of a junior doctor in the UK.
Now working as a comedy writer for TV, Adam Kay has more than enough material here from the hundreds (thousands?) of patients he saw during his tenure. He rarely holds back with scathing criticism of both the average Joe, and of the system. Here's an example:
Today crossed the line from everyday patient idiocy to me checking around the room for hidden cameras. After a lengthy discussion with a patient's husband about how no condoms fit him, I establish he's pulling them right down over his balls.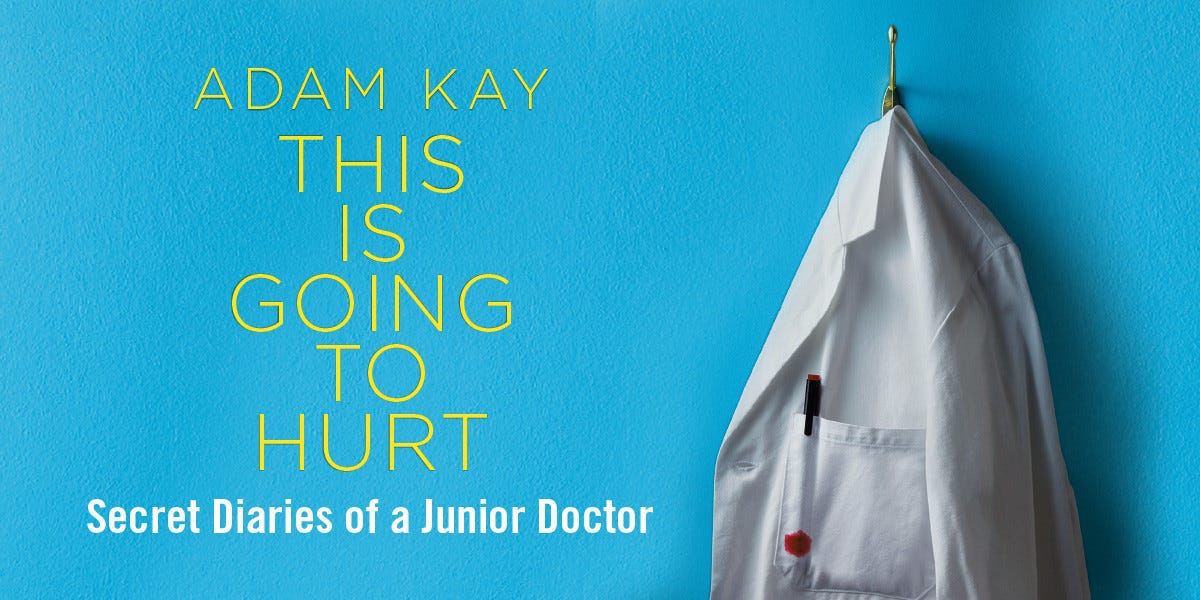 Not a literary experience or something to lose yourself in, but then that's not the point. This Is Going To Hurt is a hilarious, speedy read that'll make you think twice about complaining about waiting times in A&E.
Now, if you'll excuse me, I have to draft some product update emails.
Look out for: Footnotes at the end of each diary entry that are often funnier than the entry itself, and Kay's regular opinions on how religion and medical treatment don't mix.
If you liked this: This article by an Australian ex-doctor is another eye-opening read about the toll this profession takes. The Basketball Diaries by Jim Carroll is also funny, grim and moving - a pulpier, more poetic example of the diary format in literature.
Rating: ⭐⭐⭐
---
⏩ Quickies
Short and snappy reviews for a short and snappy time:
6 Underground (2019, film, dir. Michael Bay): ⭐⭐
It has its moments, but for the amount of money spent on it ($150 mil before marketing, r u jokin Netflix) this Michael Bay moronic mess is impressively bad.
ABOVE (6 Underground): The shiny cast bound for a plane (hopefully) never to return to our screens.
---
Sex Education (2020, series, cre. Laurie Nunn): ⭐⭐⭐⭐
The enjoyable first season might have been slightly overhyped, but this one deserves all the plaudits. It begs the question - why do people have so much sex in this school, and why didn't I go there?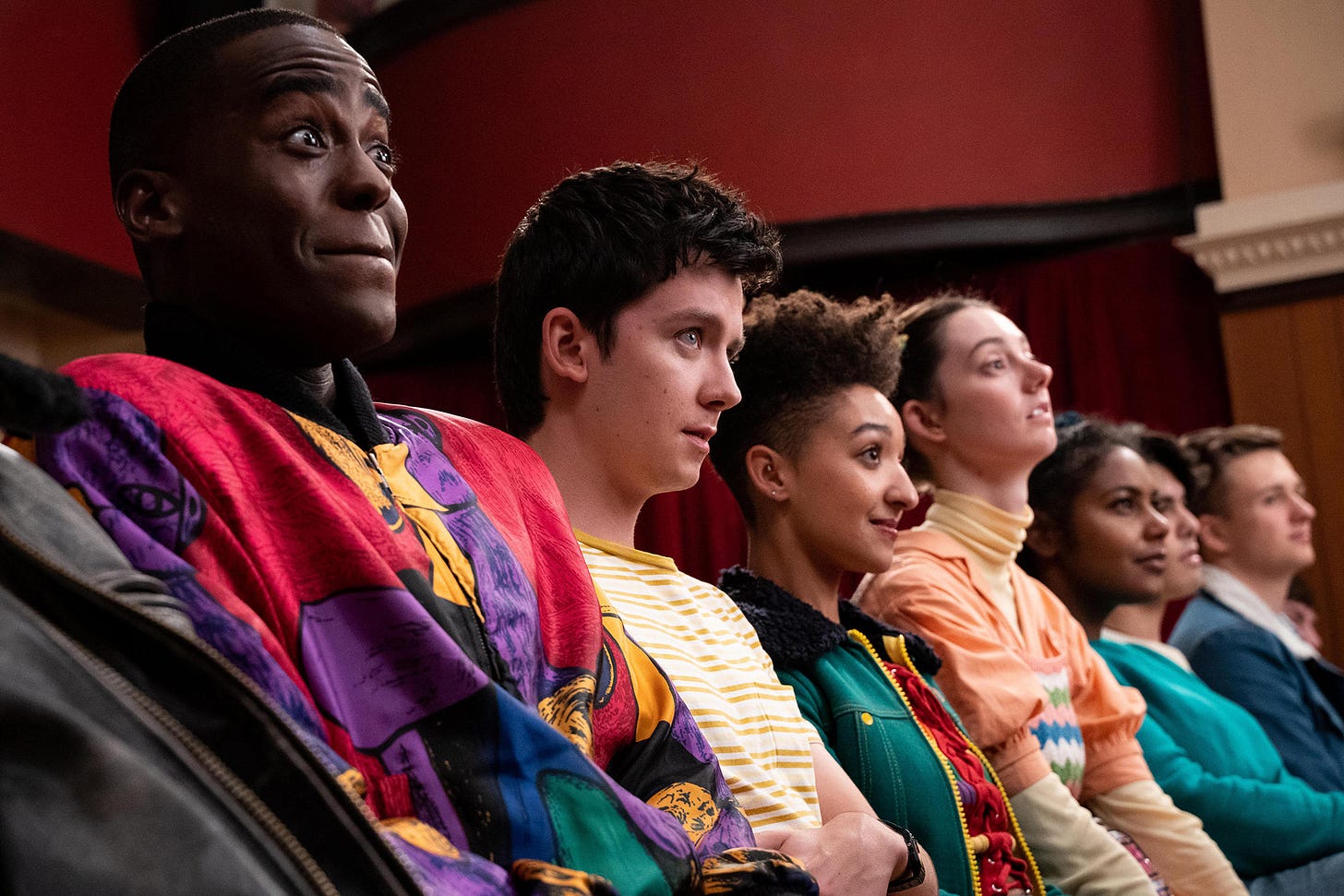 ABOVE (Sex Education): Me watching Harry & Meaghan bring about the inevitable demise of the British monarchy.
---
The Heartbreak Kid (2007, film, dir. Peter & Bobby Farrelly): ⭐⭐
Ben Stiller is an enigma - is he a writer/director of considerable talent, or an annoying movie star who thinks much too highly of himself? This film is not an enigma - it's shite.
---
📃 Quote of the Week(s)
Otis: "Last night I saw some cheese and got an erection."
Asa Butterfield as embarrassingly relatable teenager Otis in Sex Education.
---
📅 Previously, in pop culture…
Landmark events from the last two weeks in film & TV histoire:
January 20 - Breaking Bad premieres on AMC in 2008.
January 22 - Heath Ledger (aged 28) dies of a drug overdose in 2008.
ABOVE (The Dark Knight): Keep your Joaquin - Heath Ledger as (still) the best Joker ever seen on the big screen.
January 24 - In 2006, Disney announce they are buying Pixar for $7.4 billion.
January 29 - Premiere of Dr. Strangelove, directed by Stanley Kubrick, in 1964.
---
✅ Th-th-that's all, folks.
Thank you very much for reading the second edition of The Reel!
If you have any feedback, suggestions on content to cover, or if you'd like to know how my captaincy of the Gonzaga under-14 C's paved the way for the success of today, please get in touch.
You can find me on Instagram, LinkedIn and you can reply directly to this email 🤙
Please share if you enjoyed, and I'll see you in two weeks!
xxx